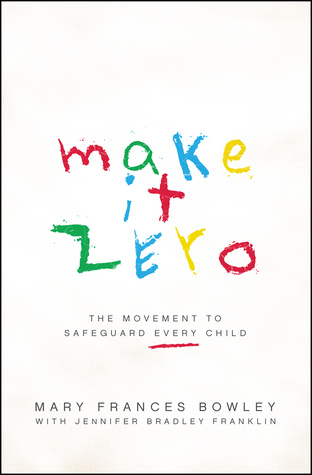 "When we correct the factors that keep children at risk, we can make a difference in the lives of those children and the adults they'll grow up to be." - Mary Frances Bowley
Children are meant to imagine bright futures and then chase them. But for the millions of at-risk children in America, this is nearly impossible, because trauma clouds their lives like a heavy fog, and in that fog they lose their hope. Make it Zero is a call to bring it back to them.
Tying shocking statistics to real stories, Make it Zero explores various forms of childhood vulnerability and offers specific ways for everyone to help end it-for good. It reveals the world of opportunity behind a single moment of compassion, and it teaches us that when we help the hopeless dream again, we ourselves come more alive.
This book is for everyone. It's for moms of children they love. It's for men who are protective of those they care about. It's for anyone who lives in a community where there are children. It's for college students and nurses and bus drivers and grandparents and aunts and uncles. The bottom line is this: if one child in America is unsafe and unprotected, then they're all at risk.
Each of us is only one person, but one person determined to act is powerful. Moments can multiply into movements and create groundswells of change. Make it Zero is your moment. To be inspired. To be empowered. To join the movement of restoring hope to every child.
My thoughts: This book is incredibly! It has so many stories to set the reader on fire to change the world and help make it a better place for children of all ages. I really appreciated all the resources included, since it is easy to get all fired up to do something, only to feel at a loss and not move forward to actually help. This book will make sure you won't have an excuse. A must for those who work in ministries, schools, hospitals, or have children of their own. Basically, I think everyone should read this book.
I received this book from Moody in exchange for my honest review.