1. Krav Maga
The Israeli fighting techniques piqued my interest after reading the
Kristen Conner
mysteries. (Somewhat unrelated, but how did I miss that there is a third one?!) I think it would be an awesome self defense style to learn with my daughter when she is older.
2. Turkish Delight
I've tried it a few times, since if Edmund was crazy about it, then it must be amazing. I'm thinking Edmund was crazy. lol. I've had some that it pretty good, but I wouldn't sell out anyone over it.;)
3. Archery
Robin Hood and, in recent years, Merida and Katniss, have given me a love for archery. I spent hours shooting hay bales with my garage sale long bow as a kid.;) Now, as an adult, I've toyed with the idea of asking my husband for a bow for Christmas, since he enjoys archery and it would be a fun hobby to do together.
4. Homesteading
I blame this one on the Little House books, which was the first series I finished as a kid. I can't say I am a true homesteader, but I have the heart for it, which is good since my husband turned most of the lot our home sits on into a garden/orchard.;) There is something quite satisfying about canning!
The peaches, from our own trees, that I recently canned. I sure hope they turned out, since peaches are a bit more work than some of the other things I have canned!
5. Wardrobes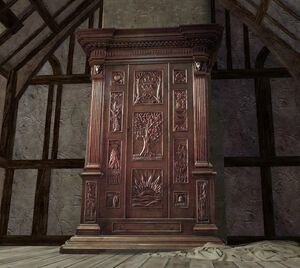 Is it lame that I actually have one? lol. It is not near this neat, but I thought I needed it when I came across one for a good deal at an estate sale. It is handy to have to store all my games, scrapbooking items, and paper projects.
6. England
My aunt is worried that when I finally make it there, that I will be disappointed that it is not like the classics portray it.;)
7. Skye
It sounds like an interesting place, which I was introduced to in
Five Days in Skye
8. Prince Edward Island
One guess on why this is on my list.;)
9. French baking
I wish I could truly master it... I think I lack the patience though.
10. Lamp posts
Another Narnia induced fetish. They are just fun anyway.