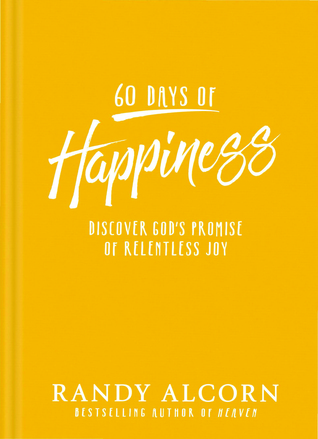 Would you like to experience true happiness?When it comes to happiness, most of us have the same questions. Why can't I be consistently happy? Is it wrong to be happy when there's so much pain and suffering in the world? And perhaps the biggest one: How can I be happier? Some Christians make an artificial contrast between joy and happiness, while others claim God wants us to be holy, but not happy. In fact, he wants us to be both, and the two go hand in hand!In "60 Days of Happiness," noted theologian and "New York Times" bestselling author Randy Alcorn shares sixty timeless devotions demonstrating that God not only wants us to be happy in him and enjoy his gifts, he commands and empowers us to do so.
My thoughts: This is an excellent devotional! I love that Randy Alcorn has written this devotional, since I have heard the arguments of happiness verses joy. I think that Randy makes a compelling argument on why we were made to long for happiness and seek it out. I love the length of these devotions, I feel like a lot of devotionals are so short and don't really allow to get past the surface of a thought. These devotions are a perfect length, longer but not too long to make them impossible.
I love the true stories included in these devotions. I also love the key message, that we were made to find happiness in the Lord.
I received this book from Tyndale in exchange for my honest review.