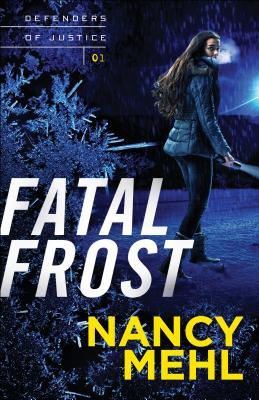 Mehl Ramps Up the Suspense in This Brand-New U.S. Marshals Series
Mercy Brennan followed in her father's footsteps in a law enforcement career, but she has no interest in any other connection to him. A U.S. Marshal in St. Louis, Missouri, she's assigned to a joint task force with the St. Louis PD that puts her back into contact with her father and in the sights of St. Louis's most powerful gang.
When the gang has reason to believe Mercy has possession of some highly sensitive and incriminating information, her boss assigns Mark St. Laurent--a Deputy U.S. Marshal and Mercy's ex-boyfriend--to get her out of town until they can guarantee her safety.
Initially unaware of the danger she's in and uncomfortable working with Mark, Mercy's frustration escalates when she discovers the extent her boss and Mark have been keeping her in the dark. It isn't until a freak ice storm hits, stranding them at a remote location and out of contact with the district office, that the full severity of their situation becomes clear. As the storm worsens, the forces of nature combine with a deadly enemy closing in to put their lives at imminent risk. Can they survive long enough for help to arrive--if help is even coming at a
New Edge-of-Your-Seat Read from an Established Romantic Suspense Author
Kate O'Brien has been leading a quiet life in small-town Shelter Cove, Arkansas, for the past four years when her past suddenly comes roaring back to life. Four years ago, she and her twin sister were attacked by an elusive serial killer. Only Kate survived, and it was her drawing of the attacker--along with some last-minute evidence--that convicted the suspect.
She's been in witness protection ever since, but new evidence suggests the convicted man isn't the murderer and she's been subpoenaed to testify in the new trial. Nervous about the risk, she'll only agree if the same marshal who protected her during the original trial escorts her to St. Louis.
Deputy U.S. Marshal Tony DeLuca accepts the assignment to bring Kate to the trial, remembering how her strength impressed him. While in Shelter Cove, however, he gets a call from his chief, advising them to stay in Shelter Cove until a new development in the case can be straightened out. But when Kate's safety is threatened, Tony must race against the clock to keep her alive and put this ugly case to rest before anyone else gets killed.
My thoughts: I read both "Defenders of Justice" books last week (yes, they were that hard to put down!), which was kind of fun to do, since some of the characters from the first book show up in the second one (but, not in a way that leaves these unable to stand alone). But, now I have to wait for the third book to come out!
Anyway, I enjoyed how the mysteries are quite different from one another. While the first one is suspenseful, since you have no idea who the cartel has in their pocket (and, there are quite a few surprises!), the second one is a different sort of suspenseful, since the mystery keeps the reader guessing until the very end. I highly recommend them both! Though, perhaps be sure you have a clear schedule, since you will need to be able to drop everything to finish the stories.;)
I received these books from Bethany House in exchange for my honest review.