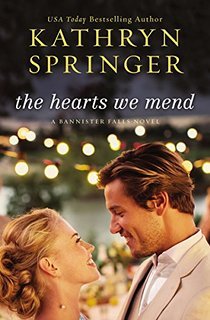 For young widow Evie Bennett, moving forward will mean deciding what to leave behind . . . and what to keep.
Widowed at the age of twenty-five when her firefighter husband was killed in the line of duty, Evie Bennett has spent the last thirteen years raising their son, Cody, in the close-knit community of Banister Falls. As the women's ministry director of her church, Evie encourages women to boldly pursue God's plan for their future . . . while she is content with her memories of the past. But Evie's well-ordered life begins to change when she meets Jack Vale.
As Evie gets drawn into Jack's world—a world that isn't as safe and predictable as the one she's worked so hard to create—he challenges her to open her eyes to the problems in the community . . . but will Evie open her heart to love again?
Because even though Jack isn't anything like her late husband, he just might be everything she needs.
My thoughts: Ever since, well, forever, Evie has lived life on the safe side. When Jack comes into her life, that world is turned upside down. No longer is she just content with her role as young widow and women's ministry leader in an affluent church. Jack makes her branch out of her comfort zone and embrace life and people from all walks of life.
I loved this book! While the first book in the series was incredible, I think that I liked this one even better, since I saw a little bit of myself in Evie. It's easy to get caught up in living a safe life and forget about the interesting people around us that come from different backgrounds. This book is definitely a new favorite! I love Kathryn's style of writing, and she does a fabulous job of making her characters come alive. I also love that she has a lot going on with the secondary characters, making their stories come alive. I look forward to the next book in the series!
I received this book from Lit Fuse in exchange for my honest review.