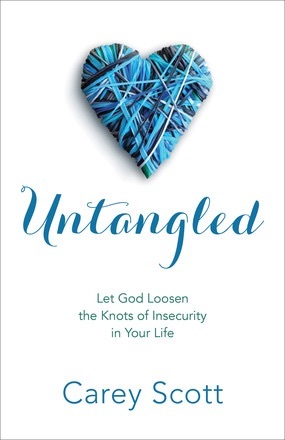 All women want to feel is valued. But problems arise when we seek confirmation that we are "enough "using the world's standards. Almost from birth, we are trained to find the approval and acceptance we crave in the eyes of family, friends, and even strangers. The result is that we cannot believe we are who God says we are--accepted, loved, beautiful, and treasured. We get tangled up in the world's assessment and our own self-judgment.
With hope-filled writing and plenty of hard-won personal advice, Carey Scott shows women how to untangle their self-esteem from the world and anchor it in Jesus. She lovingly shows readers that God was intentional in how he made them and that he is well pleased with his work. Women will learn practical strategies to escape unattainable standards and the performance-based measuring stick of the world, and find comfort in the fact that they are not alone on the journey.
My thoughts: I loved this book! Geared towards women (though I know that men have their own insecurity issues as well), this book does an excellent job of opening the reader's eyes to those tangles of insecurity in our lives. From social media to our families, friendships to how we perceive ourselves, insecurities abound. But, God has a different message for us. He wants to take those tangles of insecurity and help us to untangle them and see how much He loves us.
Filled with scripture verses, personal stories, and stories of others, this book is a wonderful resource for women to face the tangles of their insecurities and have the courage to work through them, with God's help.
I received this book from Revell in exchange for my honest review.