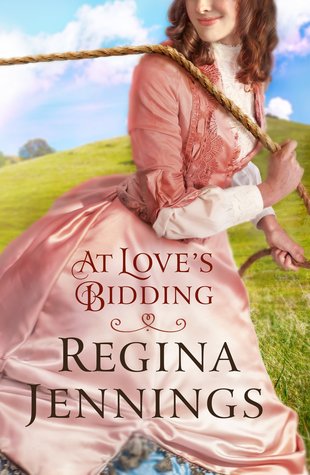 After helping her grandfather at their Boston auction house, Miranda Wimplegate discovers she's accidentally sold a powerful family's prized portrait to an anonymous bidder. Desperate to appease the furious family, her grandfather tracks it to the Missouri Ozarks and makes an outlandish offer to buy the local auction house if they promise not to sell anything until he arrives.
Upon their arrival, however, they discover their new business doesn't deal in fine antiques, but in livestock. And its manager, ruggedly handsome Wyatt Ballentine, is frustrated to discover his fussy new bosses don't know a thing about the business he's single-handedly kept afloat. Faced with more cattle than they can count--but no mysterious painting--Miranda and Wyatt form an unlikely but charged partnership to try and salvage a bad situation getting worse.
My thoughts: I was looking forward to reading another book by Regina Jennings, since her other stories have been a fun blend of history, romance, action, God, and spunk. At Love's Bidding didn't disappoint! I appreciated the fun story of a young woman sent out west to right a wrong and clear her family's name, and discovering more than a missing heirloom, finding love and a backbone as well. The story has some great characters and fun twists! I highly recommend it.
I received this book from Lit Fuse in exchange for my honest review.