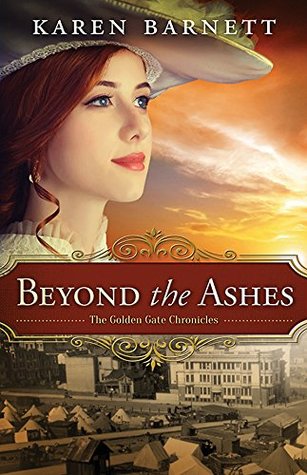 Where better to rebuild and face one s fears than in 1906 San Francisco, a city rising from the ashes? Ruby Marshall, a young widow, is certain she ll discover new purpose assisting her brother Robert with his cancer research, but she doesn t anticipate finding new love. Dr. Gerald Larkspur dreams of filling his empty home with family, but he d always hoped it would be a wife and children. In the aftermath of the great earthquake, the rooms are overflowing with extended family and friends left homeless by the disaster. When Robert s widowed sister arrives, the close quarters seem close indeed. Ruby and Gerald's fledgling romance is put at risk when Gerald develops symptoms of the very disease they re striving to cure. Together they must ask is it worth a second chance at love when time might be short?
My thoughts: I have enjoyed a couple of Karen Barnett's other stories, including the first book in The Golden Gate Chronicles. I like that this book catches readers up to date on what happened to the characters of the first story, while introducing some new ones and being from a different point of view.
I think the author does a fabulous job of bringing her characters to life, along with their time in history. It was interesting to read about the research that went into x rays and fighting cancer in the early 1900's. I also found it interesting to read more about the San Fransisco earthquake and the way people recovered from it.
Whether you are a history buff or not, this is a lovely story that will be enjoyed by old fans and new readers alike.
I received this book from Lit Fuse in exchange for my honest review.