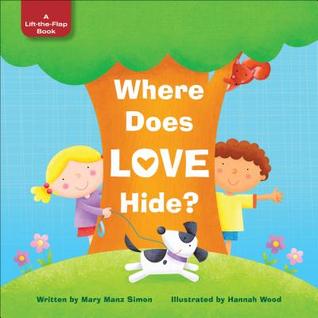 In Where Does Love Hide? children are reminded that they not only receive love but have the opportunity to share love. Looking under the fun, lift-a-flap feature, children will see examples of everyday love opportunities. Each page includes a memory verse and an example of a way to share God's love. In life, children hear the words "I love you" repeatedly, often beginning before birth. However, because love is an abstract concept and young children are concrete thinkers, they must gradually learn to understand love by what they experience. In Where Does Love Hide? children are given the opportunity to see love in action and learn what love looks like. .
My thoughts: This book is an adorable little book that shows children the many ways that they can show love to those around them and how love can be shown to them. I like that it ties in being helpful and kind to others. Each flap reveals who they can show love and a scripture that ties that thought in. The illustrations are colorful and fun for kids. My daughter is loving this book!
I feel like this one is better suited to toddlers, since it isn't very long and doesn't have a whole lot written on each set of pages. So, it works well with a short attention span. It could be a good conversation started for kids that are a little older.
I like the note at the end of the book.
I received this book from Tyndale in exchange for my honest review.