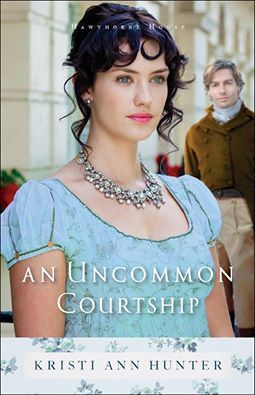 When her mother's ill-conceived marriage trap goes awry, Lady Adelaide Bell unwittingly finds herself bound to a stranger who ignores her. Lord Trent Hawthorne, who had grand plans to marry for love, is even less pleased with the match. Can they set aside their first impressions before any chance of love is lost?
My thoughts: While I enjoyed the previous two books in this series, I had a harder time getting into this story, since it was just so vague at the beginning. And, it felt like there wasn't much to the heroine. But, then more of the story came out and the reader starts to get why Lady Adelaide is the way that she is. I love that this story wound up being a different spin on the tale of a marriage of convenience. I also love that Kristi has captured the Regency way of verbal sparing, how to polietly get your point across, something I love about Jane Austen's stories.
If you enjoy Regency stories, I highly recommend this one! I would caution that it is for a little older audience. I was quite an advanced reader at a young age, and would not of wanted to pick this one up until at last high school.;) (though, things are handled with tact)
I received this book from Bethany House in exchange for my honest review.